We use our training and talents to improve the lives of others. Public service is not just a firm tradition – it's who we are.
Our attorneys hold leadership positions in many of the region's charitable organizations, including the House of Ruth, Healthcare for the Homeless, Baltimore School for the Arts, Baltimore Leadership School for Young Women, the Downtown Partnership of Baltimore, and Afya Public Charter School. We work to strengthen these organizations, making their missions our own. And when a charitable organization needs legal help and cannot afford to hire a lawyer, we often work on pro bono and reduced fee engagements.
We regularly represent indigent individuals on a pro bono basis. Whether advocating for a tenant to recover a security deposit or a death-row inmate to prove his innocence, our attorneys have the freedom and support to serve those in need. We also support legal organizations that work to ensure access to justice through our state and federal court systems. Some of these organizations include the Maryland Volunteer Lawyer Service, the Public Justice Center, Equal Justice Council, Maryland Lawyers for the Arts, and the Maryland Access to Justice Commission.
We have set a high standard for community service and civic involvement. To learn more about our history of public and community service, visit Our History.
Attorney Spotlight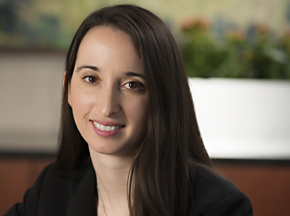 Ella Aiken
Partner
Ella Aiken practices in Gallagher's Litigation Group in a wide variety of matters, including commercial litigation, business disputes, property management, health care regulatory matters, intellectual property infringement and enforcement actions, and the defense of medical malpractice claims.
See All Attorneys