Associated Attorneys: Ward B. Coe III
7.29.2016
"It's just what you do."  That's Ward Coe's belief about pro bono work.  There was never any question that Ward would devote time and resources to representing poor clients when he became a lawyer.  He has certainly done that—and much more—since becoming a lawyer in 1973.
Following law school graduation, Ward took his first job at Anderson, Coe & King, LLP.  As a first-year associate, Ward represented the United Farm Workers against the Baltimore City Police Department.  Working with John King and Dale Adkins, they won an injunction to prohibit the police from unlawfully arresting picketers who were advocating for laborer's rights outside the local grocery stores.
Following four-years at the Attorney General's Office, Ward joined Whiteford, Taylor & Preston, L.L.P. in 1978.  Ward often handled criminal cases for the Public Defender's Office when they had a conflict, as well as conflict cases from Legal Aid.
By 1986, Ward had a reputation not only for results, but also for his dedication to pro bono representation.  The Legal Aid Bureau teamed up with Whiteford and Ward to represent a class of foster children against the Maryland Department of Social Services in L.J. v. Massinga.  There were few standards for screening foster parents at that time.  In some cases, abused children were taken from their homes and placed with abusive foster parents.  The State's lack of funding let children languish in the foster care system.
Following a two-week hearing in federal court, Ward's team won a preliminary injunction that resulted in the entry of a court order reforming the State's foster care system.  The order was upheld by the Fourth Circuit and led to the adoption of a consent decree that still exists today.  Ward then became a trustee for the named plaintiffs, who are now adults, and has continued to help them through the years.
Ward's work in the courtroom drew the attention of leaders around the State.  In 2002, Ward was appointed chairman of the Maryland Court of Appeals Pro Bono Committee—a role in which he served for 10 years.  The appointment came on the heels of the adoption of Rule 6.1 of the Maryland Rules of Professional Conduct, which set the 50‑hour annual pro bono representation goal and reporting requirement.  Ward traveled around Maryland building awareness of and participation in pro bono legal aid organizations.
It was, in part, Ward's role as chairman of the Pro Bono Committee that led him to Gallagher in 2007.  "It was a very time consuming job—about 400 hours a year.  I knew Gallagher, with its reputation for community involvement, would be supportive of that."  Ward describes Gallagher's view toward pro bono work as much broader than most firms.  The firm values not just representation of clients in court, but community, civic, and political involvement.
Ward was appointed chairman of the Access to Justice Commission in 2015.  One of the Commission's primary goals is to secure permanent funding for legal service providers so that those who need lawyers to protect their rights can have them.  "It's fundamental," Ward says of legal representation.  "Representation greatly enhances the likelihood of success.  Whether you lose your housing or custody of your children or obtain a protective order should not depend on whether you can afford a lawyer."
What's next for Ward?  "I'd like to handle a death penalty case.  In some places, there are no public defenders, so the courts pay a flat rate for lawyers to take a case from start to finish.  The fees are low, and so is the quality of the representation."
Ward agrees pro bono work has made him a better lawyer.  "But like anything in life, it's really about the people you meet."
Attorney Spotlight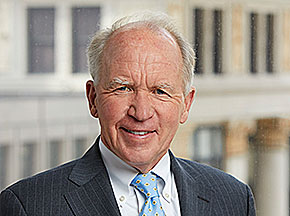 Ward B. Coe III
Of Counsel
Known for his defense work in high profile class action cases, Ward Coe is a veteran attorney with more than three decades of experience representing corporations in complex commercial litigation.
See All Attorneys