We work with banks, institutional and DUS lenders, and health care financing companies to negotiate a wide variety of deals involving the following types of credit:
Secured and unsecured working capital revolving credit facilities, letters of credit, and equipment revolving credit facilities for middle market businesses as well as larger revenue corporations;
Revolving credits and term loans for residential lot development and single and multifamily housing facilities;
Secured revolving credit and term construction loan facilities for development of commercial properties;
Short and long-term term loan and real estate financings;
Variable and fixed rate loan financings for assisted living and skilled nursing facilities, including conduit loans;
Secured maritime financings involving the negotiation and preparation of commercial ship mortgages;
Participating mortgage secured loans with equity conversion options; and
Negotiation and preparation of participation agreements and loan syndication agreements on behalf of both originating lenders and participating banks.
We can staff large multi-state secured financings with short closing schedules. And through our Creditors' Rights and Bankruptcy Group, we can guide lenders through workouts and bankruptcy proceedings.
We know that your relationships with customers often go back many years. We'll make sure to protect these relationships – while we protect your interests.
Attorney Spotlight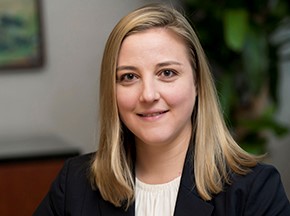 Emily J. Johnson
Associate
Emily is an associate in Gallagher's Real Estate and Business Transactions Group with a focus in commercial real estate development, affordable housing and commercial lending.
See All Commercial and Real Estate Lending Attorneys