Gallagher is known for its unusually collaborative internal culture. A diverse and inclusive workforce is a natural outgrowth of these values. Our Diversity, Equity, and Inclusion Committee was formed as part of a year-long strategic planning process to help strengthen the firm with an increased number of professionals from diverse backgrounds who will enrich the firm and the quality of services we provide to our clients.
The Committee is chaired by Camille Parker, a partner in the firm's Public Finance and Commercial and Real Estate Lending Groups. Camille heads a committee of 15 attorneys and staff, including the firm's managing partner. Together, this team:
• Works with firm leadership to identify objectives and strategies for recruiting, developing and retaining minority and diverse attorneys and other professionals;
• Develops initiatives to ensure that our objectives are met on a consistent and ongoing basis; and
• Communicates information on the firm's diversity initiatives internally, as well as to law schools and our clients.
UM Carey Law School Diversity and Inclusion Scholars Initiative

Gallagher is one of six firms participating in the University of Maryland Carey School of Law's Diversity and Inclusion Scholars Initiative. The program is designed to ensure that Maryland's legal community becomes more diverse and inclusive, and reflects more accurately the racial, ethnic, gender and religious diversity of our region. Financial and professional support is offered annually to high-achieving students to demonstrate a commitment to diversity. Additionally, the firm provides attorney representatives to serve on the advisory committee for the school.
As a result of this commitment, in 2018, Gallagher was one of four firms to receive the "Firm Diversity Awards," presented by the Black Law Students Association of the University of Maryland Carey School of Law.
Attorney Spotlight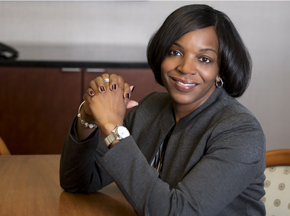 Camille A. Parker
Partner
A member of Gallagher's Commercial and Real Estate Lending Group, Camille represents lenders and business creditors in a full range of commercial financing transactions, including real estate, asset-based, and health care lending.
See All Attorneys