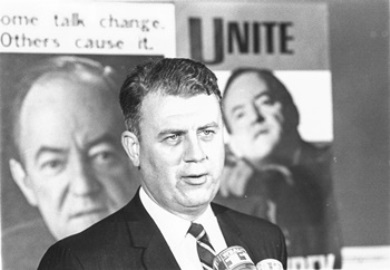 Early in his life our founder, Francis ("Frank") X. Gallagher, learned the importance of opportunity. Despite showing early signs of brilliance, he would not have been able to attend college or law school without the aid of scholarships due to his family's desperate poverty. Throughout his professional and personal life, he sought to expand the opportunities of others.
During the 1950's, Frank served as the Commissioner of Baltimore's Equal Employment Opportunities Commission, working to eliminate employment discrimination at a time when Jim Crow and segregation were still the law of the land. He would later play a role in desegregating Baltimore's public school system. Frank also served as People's Counsel for Baltimore City, fighting utility rate hikes that disproportionately impacted the city's poor residents. As a progressive leader in Maryland politics, Frank worked to promote policies that benefitted all Marylanders equally. He looked for ways to reverse the decay and suburban sprawl that was devastating Baltimore's downtown business district, joining other business leaders to form the Greater Baltimore Committee, setting the stage for Baltimore's first Renaissance in the 1960s and early 1970s.
In 1961, Frank Gallagher and John C. Evelius formed Gallagher & Evelius. Well-regarded business attorney Eddie Jones joined them in 1971, creating the firm still known today as Gallagher Evelius & Jones. Shortly thereafter, at the request of the Archbishop of Baltimore, Frank Gallagher represented several Roman Catholic priests accused of plotting to stop the Vietnam War. This became famous as the "Harrisburg Seven" trial. In the midst of the trial, Frank Gallagher died from a massive heart attack – leaving behind his wife, five children, a law firm, and a city devastated by his death. The federal district court in Harrisburg recessed the trial for Frank Gallagher's funeral, and the participants joined more than 1,800 others to mourn.
After Frank Gallagher's death, his protégé Rick Berndt served as our managing partner for more than 40 years. In the 1970s, Rick played a key role in the redevelopment of Baltimore's Inner Harbor.  Facing strong opposition, Rick devised and led an effort to garner citizen support for a referendum campaign known as Citizens for Harborplace.  Passage of that referendum allowed for the development of Harborplace and the revitalization of Baltimore's Inner Harbor. Rick became a tireless civic and community advocate, serving on numerous boards including Center Stage, Mercy Hospital, Stella Maris, Goucher College, Baltimore Development Corporation, Baltimore Community Foundation, Johns Hopkins Medicine, and the Maryland Academy of Sciences. His efforts contributed to nearly every major institution that comprises the Baltimore we know today.
We honor this legacy of social consciousness, care for the individual and dedication to the Baltimore community. As our firm continues to grow, it's important to us that we do not forget what makes us unique, as an asset to Baltimore, our employees and especially our clients. To learn more about our public service and pro bono initiatives, visit Public Service and Pro Bono.
Photo of Francis X. Gallagher by William Mortimer, 1968, reprinted with permission from the Baltimore Sun.
Attorney Spotlight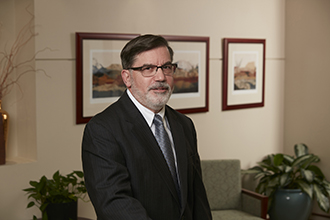 David E. Raderman
Of Counsel
Dave Raderman concentrates his practice in the areas of tax and business transactions, particularly tax sensitive real estate investments.
See All Attorneys