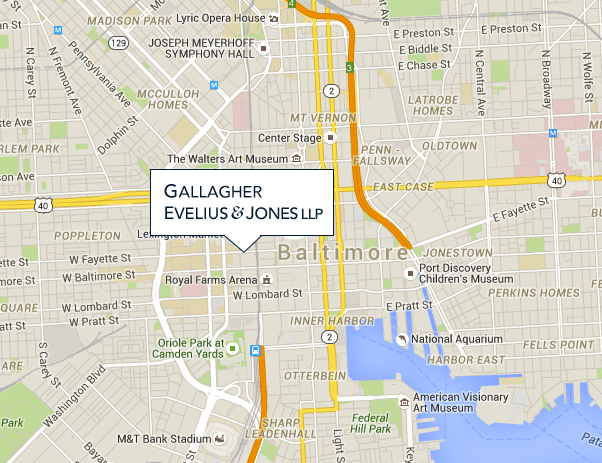 Directions
218 North Charles Street
Suite 400
Baltimore, MD 21201
p. 410.727.7702
f. 410.468.2786
Gallagher Evelius & Jones LLP is located on the Fourth Floor at 2 Charles Center, between Lexington and Saratoga Streets.
If you are visiting us for the first time, the address of our Parking Garage is 211 North Liberty Street, Baltimore, MD 21201. Please see our parking instructions for more details on how and where to park.
Email Us
For more information about Gallagher, our practice areas, or our attorneys, email us at info@gejlaw.com.
Disclaimer
Please do not send us confidential information until you speak with one of our lawyers and receive our authorization to do so. Information provided to Gallagher Evelius & Jones through this website or otherwise will not create an attorney-client relationship in the absence of an express agreement by the Firm, and will not prevent the Firm from representing someone else in connection with the matter in question or a related matter.