2.10.2022
For Gallagher attorney Camille Parker, participating in the University of Maryland's Diversity and Inclusion Scholars Initiative has been one of the highlights of her career.
The initiative, which was established in 2017, aims to enhance diversity in the legal profession by providing financial and career support to cohorts of high-achieving students from diverse backgrounds.
"In addition to it being extremely rewarding to participate in a program that is designed to ensure that Maryland's legal community becomes more diverse and inclusive, it has been such a joy to develop meaningful relationships with, and pour into the lives of, such amazing and promising law students from diverse backgrounds," said Camille, who is a partner at Gallagher and works in a number of practice groups including Public Finance, Tax Credit Investments, Real Estate and Business Transactions, and Commercial and Real Estate Lending.
Improving diversity, equity, and inclusion at Gallagher is an important strategic goal. Tom Dame, Managing Partner, noted that "diversity, equity, and inclusion makes us stronger as a firm and more effective for our clients."
Tom stated, "We want people who seek to be part of a diverse and inclusive community of colleagues."
According to an article from the American Bar Association, a 2019 study of 1,000 U.S. law firms showed that 16.1 percent of attorneys at those firms were racially or ethnically diverse, 8.08 percent were racially or ethnically diverse women attorneys, 2.86 percent were LGBTQ attorneys, and 0.53 percent were attorneys with disabilities. For Gallagher, an original firm partner in the Diversity Scholars Initiative since 2017, the collaboration marks an important step in working toward a more diverse legal industry.
At the end of January, Gallagher hosted a virtual firm night with more than a dozen Diversity Scholars. Students met and conversed with more than two dozen Gallagher attorneys from various practice areas, and had the opportunity to ask questions about their career pathways.
"Personally, I have had the opportunity to mentor a number of the diversity scholars, and they are truly appreciative of the time, support, advice, wisdom and guidance that practicing attorneys are able to provide as they navigate through a very complex and challenging law school career," said Camille, who moderated Gallagher's firm night.
As a result of the connections that Gallagher has made with the diversity scholars, the firm has hired several diversity scholars as summer associates over the past several years, and the firm has also extended offers to diversity scholars to join Gallagher as associates after graduation.
"It's exciting for Gallagher to now work with six other partner firms who are also dedicated to promoting diversity and inclusion within the Maryland legal community," Camille said. "We are grateful to collaborate with these partners to come up with creative and meaningful ways to support the personal and professional development of these amazing and diverse law students."
To learn more about the University of Maryland's Diversity Scholars initiative, click here.
Attorney Spotlight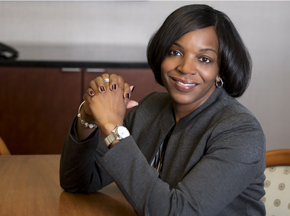 Camille A. Parker
Partner
A member of Gallagher's Commercial and Real Estate Lending Group, Camille represents lenders and business creditors in a full range of commercial financing transactions, including real estate, asset-based, and health care lending.
See All Attorneys