3.4.2021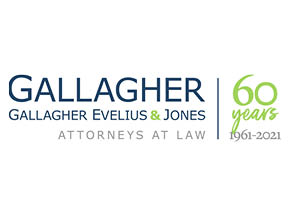 As we begin to emerge from the present health crisis, we celebrate a milestone year in the history of Gallagher. Sixty years ago, Francis X. Gallagher and John C. Evelius started the firm that today serves many prominent universities, hospitals and health care providers, financial institutions, religious organizations, real estate development companies, and other businesses throughout the mid-Atlantic region. Business lawyer Eddie Jones joined Gallagher and Evelius in 1971, creating the firm still known today as Gallagher Evelius & Jones.
Frank Gallagher rose from a modest and difficult childhood. He was only able to attend college and law school with the aid of scholarships. As a lawyer, he never forgot his roots, seeking to expand opportunities for others throughout his professional and personal life. His commitment to Baltimore City and to people in need all around him is one of the hallmarks of our firm. The firm's value of service to the community was advanced by Frank's protégé, Rick Berndt, Gallagher's managing partner for more than 40 years. Many lawyers and staff continue this important commitment today.
Life's unpredictability struck in February of 1972 when, just two weeks shy of his 44th birthday and in the midst of the "Harrisburg Seven" criminal trial, Frank Gallagher died of a massive heart attack. (You can read about it in this NY Times article.)
Following Frank Gallagher's death, Rick Berndt successfully led the firm in an uncertain time to stability and strength, and he worked to improve Baltimore City, such as by playing a key role in the redevelopment of Baltimore's Inner Harbor. Rick has been a tireless civic and community advocate, serving on numerous boards including Center Stage, Mercy Health Services, Stella Maris, Goucher College, Baltimore Development Corporation, Baltimore Community Foundation, Johns Hopkins Medicine, and the Maryland Academy of Sciences. As a lawyer, business leader, civic activist, and advisor, Rick has strengthened and championed many of the major institutions that comprise the Baltimore we know and love.
Sadly, Frank Gallagher did not live a long life, but he made the most of his years. Among his accomplishments, he laid the cornerstone for Gallagher Evelius & Jones and he set the firm on a path of strong values. Rick Berndt continued us on that path for more than 40 years. We honor their legacy of client service, civic engagement, and social consciousness, and, as we celebrate 60 years, we pledge to remember what makes the firm a strong and special partner to our community and our clients.
Attorney Spotlight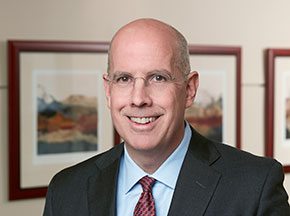 Thomas C. Dame
Managing Partner
Tom Dame practices in the firm's health law and litigation groups. He has a diverse civil litigation practice, with emphasis on disputes in health care matters and business litigation.
See All Attorneys