7.27.2016
Gallagher represented Beatty Development Group in the acquisition, financing, and development of Harbor Point, a 28-acre peninsula of land located between the Fells Point and Harbor East neighborhoods of Baltimore. At build-out, Harbor Point will include 1.6 million square feet of office space, 1,000 residential units, 250,000 square feet of retail, 500 hotel rooms, 3,300 parking spaces, 9.5 acres of parks, open spaces, and a waterfront promenade.
Notably, Gallagher assisted Beatty Development Group with a plan of tax increment financing for Harbor Point totaling $107,000,000.  The tax increment financing bonds were issued by the City of Baltimore in multiple phases and used to pay the costs of designing, engineering, and constructing public improvements including roads, utilities, street lighting, public parks, a waterfront promenade, and a new bridge connecting Harbor East and Harbor Point.
In 2014, Gallagher assisted Beatty Development Group in acquiring the property and securing nearly $300 million dollars in debt and equity financing for the first phase of development.  The first phase of development included new roadways, a central plaza parking garage and park, and a 21-story mixed-use LEED Gold building that is the headquarters of Exelon's Constellation business unit. Also included are 103 apartments, a 750-space parking garage and 38,000 square feet of ground floor retail space. Future phases of the project currently under development include Point Street Apartments, a 289-unit apartment building, and Wills Wharf, which will include 225,000 square feet of Class A office space and a 156-room Canopy by Hilton Hotel.
The Harbor Point site was formerly the world's largest chrome ore processing facility. The former owner of the property, in connection with the U.S. Environmental Protection Agency and the Maryland Department of the Environment, conducted a $110 million cleanup and containment effort which was completed in 1999 and allowed for the redevelopment of the site.
Associated attorneys: Steve Goldberg, Mark Keener, Martha Hylton, Kirsten Woelper, Ryan Potter, Adam Block
Attorney Spotlight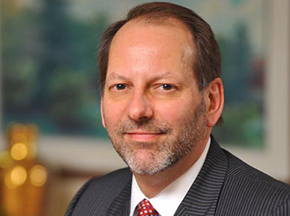 Mark P. Keener
Partner
Mark Keener represents developers, owners, investors, and lenders in residential, commercial, industrial, and mixed-use real estate development projects, from land acquisition through development, construction, leasing/sale, and disposition.
See All Attorneys