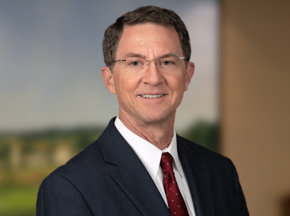 p: 410.347.1334
A law firm management professional and non-practicing attorney with experience at several law firms, Brad is an enthusiastic steward of Gallagher's distinctive culture, innovative legal work, and commitment to the community. As Gallagher's first executive director, he is focused on the firm's culture and vision, employee growth, and generation of useful change.
Before joining the firm, he was a fellow at Diversity Lab and was the chief operating officer and chief strategy officer for a 150-attorney, Denver-based firm. There he led the flagship office's relocation involving a dramatic reduction in square footage and an improved design for front-of-house and back-of-house operations. He also directed the firm's rebranding effort, facilitated a re-imagined summer associate program, and coordinated the creation of an associate development model.
Brad has also been the chief operating officer for a midsized, southwest Florida firm. There he provided strategic and operational guidance, led successful recruiting efforts, managed the partner performance process, and guided the firm's marketing and business development efforts.
Beyond Gallagher
Outside of Gallagher, Brad enjoys his role as an informal advisor to Leaven, Inc.—a nonprofit he co-founded with his best friend from high school. He also appreciates every minute spent cooking, disc golfing, and laughing with his three adult daughters as well as gravel biking and propagating succulents.
Print PDF
Background
Bar Admissions
Education
University of Chicago Booth School of Business, MBA, 1991
The Florida State University College of Law, JD, 1985
The University of Florida College of Agiculture, BS, 1981