3.3.2023
Gallagher Evelius & Jones is pleased to announce that James Bragdon, a partner in the litigation group, has been named to The Daily Record's 2023 listing of Leaders in Law. James is one of 38 legal professionals across Maryland being recognized for service to businesses, clients and individuals and making communities stronger.
An experienced litigator who concentrates in civil disputes and risk management for Gallagher's real estate, health care, and non-profit clients, James has extensive trial experience and has obtained favorable verdicts in bench and jury trials in state and federal courts in Maryland, the District of Columbia, and Virginia. James' practice areas include real estate and property management and healthcare litigation and risk management. He advises the firm's real estate and property management clients on business strategy, litigation, and dispute resolution. He works daily on a variety of issues, including fair housing, residential and commercial leases, claims management, insurance coverage, regulatory compliance, and crisis response.
In healthcare litigation, James defends providers and advises them on a wide array of risk management issues. He represents hospitals, physicians, practice groups, and long-term care facilities in state and federal litigation.
Maintaining an active civil rights pro bono practice is important to James, and he has represented incarcerated and indigent clients in state and federal litigation. He also serves as an Adjunct Professor of Law at Maryland Carey Law, teaching a seminar on Pretrial Civil Litigation.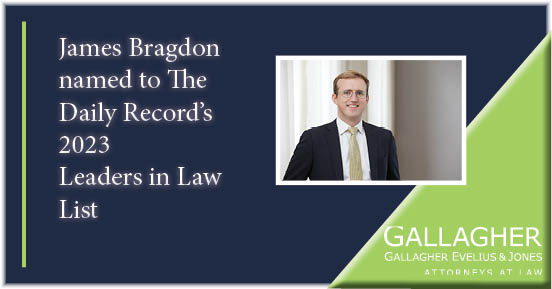 James majored in mathematics at Duke University before attending the University of Maryland Francis King Carey School of Law, where he graduated summa cum laude. After law school, James served as a law clerk for the Honorable Sally D. Adkins at the Maryland Court of Appeals.
"Gallagher is fortunate to have James as partner in our firm," said David Sommer, the leader of Gallagher's Litigation Practice Group. "James works tirelessly representing property management and healthcare clients in the Baltimore region and is a valuable resource to his colleagues. Outside of the firm, James prioritizes his family and has become a beloved professor to his students at the University of Maryland Law School. We congratulate James on this well-deserved honor."
Nominations for all the awards were received from The Daily Record's readers in addition to Maryland law firms, bar associations, chambers of commerce and the business and legal communities at large. The Daily Record launched the Leadership in Law Awards in 2001 as a way to recognize the outstanding work being done by members of the legal community throughout Maryland.
"This year's Leaders in Law winners are incredible leaders who devote their time and talents to the legal profession and to the communities in which they live and work. The honorees work in a variety of roles in the legal profession, from ADR to support staff, law firm innovators, justice champions and more," Suzanne Fischer-Huettner, managing director of The Daily Record/BridgeTower Media, said. "We at The Daily Record and our event partner, the Maryland State Bar Association, congratulate this year's honorees for all they have accomplished."
About Gallagher Evelius & Jones
Sixty years ago, Francis X. Gallagher and John C. Evelius founded the firm known today as Gallagher Evelius & Jones. Business lawyer C. Edward "Eddie" Jones joined the firm in 1971.
For more than six decades, Gallagher has served businesses and nonprofits. Among other clients, Gallagher represents many prominent hospitals and health care providers, universities, real estate development companies, financial institutions, religious organizations, and other businesses throughout the mid-Atlantic region. Many of these relationships date back more than 50 years – a sign of the firm's strong commitment and level of service. The firm continues to expand into new practice areas such as renewable energy, in order to provide high quality service to clients.
Gallagher and its more than 100 staff are committed to supporting the community through volunteer and pro bono efforts, and to focusing on diversity, equity, and inclusion across all aspects of the organization.