7.15.2021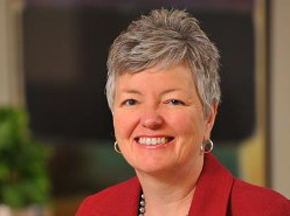 For more than 35 years, lawyer Kathryn Kelley Hoskins practiced at Gallagher Evelius & Jones, serving institutions of higher education, private high schools, the Archdiocesan school system, and a number of healthcare institutions, social service and nonprofit organizations.
She understood her clients' business needs and was able to provide sound advice on how to navigate various employment and other issues.
Kathy died at home of uterine cancer on July 10, after three years of treatment.
Born in Buffalo, New York, Kathy graduated from Bucknell University and Syracuse University College of Law before moving to Baltimore in 1985 and building her law career at Gallagher. She spent her entire professional career at Gallagher, leading the firm's higher education and employment practices for many years and serving as a role model and teacher for many Gallagher lawyers. "Kathy cared deeply for her colleagues, clients, and law firm," said Tom Dame, Gallagher's managing partner.
Kathy was dedicated to her practice and to her clients, helping to attract, retain and deepen so many of the client relationships that characterize Gallagher.
Kathy made strong contributions to the community. She served on a number of nonprofit boards, including for several schools. In 1987, she helped form the Institute for Christian and Jewish Studies (ICJS), now the Institute for Islamic, Christian and Jewish Studies. She remained dedicated to the organization throughout the years, serving as president for more than ten years, and in May 2020, she was recognized with the unique honor of "Founder Trustee."
Outside of Gallagher, Kathy enjoyed traveling with her husband, Dave, and daughter, Abigail, and she had a passion for singing and performing music in various venues, including the old "Gallagher Band." She also enjoyed long walks in her neighborhood, solving crossword puzzles, reading good literature, and listening to music.
"We are so grateful for Kathy's many valuable contributions to our firm and to the community," Tom Dame said. "She cared deeply about the values and distinctions of our firm, and she modeled them so well in her practice and in her life. Her presence in our lives enriched us and made us better people. We will miss her dearly."
Attorney Spotlight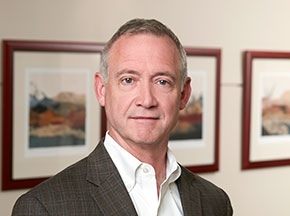 Peter E. Keith
Of Counsel
Peter has been a member of Gallagher Evelius & Jones LLP since 1989. He joined the firm following several years of public service, first as a white collar criminal prosecutor at the Attorney General's Office and then as trial counsel for the U.S. House of Representatives in an impeachment of a federal judge.
See All Attorneys