10.9.2020
In the first multi-day trial litigated in federal court in Maryland by remote proceedings, The Redeemed Christian Church of God (Victory Temple) Bowie, Maryland v. Prince George's County, Maryland, a federal judge in Greenbelt found Sept. 9 that Prince George's County violated the Religious Land Use and Institutionalized Persons Act of 2000, or RLUIPA.
Background:
Victory Temple is a congregation of the Redeemed Christian Church of God (RCCG), an evangelical and Pentecostal church founded in Nigeria in 1952. There are approximately 700 RCCG churches throughout the U.S. Victory Temple, which was founded in 1996 in Laurel, has outgrown its current location on Old Annapolis Road and, after a feasibility study, purchased a parcel of land zoned to permit churches at 14403 Mount Oak Road in Bowie, with the intent of constructing a new church facility large enough to accommodate its growing congregation. Victory Temple submitted an application to amend its water and sewer category from Category 5 – Future Community Service to Category 4 – Community System Adequate for Development Planning, a required initial step in developing the property. Although all County agencies that evaluated the application recommended approval, including the County Executive, the County Council denied the application, effectively causing Victory Temple's development plans to stall. Victory Temple then filed a lawsuit against the County, claiming that the denial decision imposed a substantial burden on Victory Temple's religious exercise rights in violation of RLUIPA, a statute Congress enacted in 2000 to prevent such burdensome or discriminatory land use decisions absent a compelling justification.
Outcome:
In a 30-page Memorandum Opinion issued Sept. 9, 2020, U.S. District Judge Deborah K. Chasanow held that the County violated RLUIPA in denying Victory Temple's application for a water and sewer category change. Stating that it was "not a close call," Judge Chasanow explained that the denial of Victory Temple's category change request "has prevented it entirely from developing its proposed church on the Mount Oak Road property.  The Old Annapolis Road property is insufficient to meet Victory Temple's needs. The County's denial of Victory Temple's category change request imposed a substantial burden on Victory Temple's religious exercise."  Judge Chasanow went on to hold that the County's stated justification for the denial decision—purported concerns about traffic safety—did not provide a sufficient basis for the denial.
On Oct. 2, 2020, Judge Chasanow entered a permanent injunction mandating the county to amend the county's water and sewer plan, thereby advancing Victory Temple's development of a new church.
Of Note:
Victory Temple was represented by Ward B. Coe III, Meghan Casey, and Joseph Dugan of Gallagher Evelius & Jones. The trial was conducted via Zoom for Government in June, with nine witnesses appearing remotely and nearly 100 exhibits offered into evidence by the parties. Even with the unique pressures of examining and cross-examining witnesses remotely, coordinating production and delivery of exhibits electronically and in hard copy, and communicating effectively while remaining physically distanced, the parties were able to successfully conduct the trial. The nearly seamless presentation of evidence and argument was a credit to the hard work of all involved, including the Court, its staff, the witnesses, and counsel.
"We are pleased with the outcome here," said Ward B. Coe III, Gallagher's lead counsel on the Victory Temple litigation team. "RLUIPA is grounded in the same principles that animate the religion clauses of the First Amendment — respect for free exercise of religion and the rights of communities of believers to gather together and worship free from governmental interference. The Court's decision will make it possible for Victory Temple to move forward with developing the church home its parishioners have been praying for and dreaming about for years."
Attorney Spotlight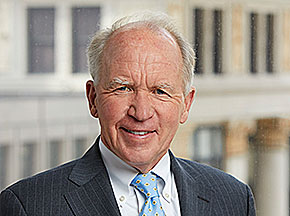 Ward B. Coe III
Of Counsel
Known for his defense work in high profile class action cases, Ward Coe is a veteran attorney with more than three decades of experience representing corporations in complex commercial litigation.
See All Attorneys