8.29.2022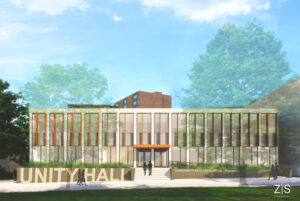 The newly dedicated Unity Hall project at 1505 Eutaw Place in Central West Baltimore has been as much about breaking down as it has been about building up. Located in a neighborhood whose history includes segregated housing and racial division, Unity Hall has a mission to break down those barriers that have traditionally divided, while promoting the economic development and social well-being of the underserved communities of Central West Baltimore.
What:
The project involved transforming a former Union Hall that opened in 1964 and was in a state of disrepair, and re-envisioning it into a three-story, 30,000-square-foot neighborhood center for arts, education and job training.
This distinct community center features office space for community-based individuals and organizations with shared amenities such as a break room and conference room, a commercial kitchen on the lower level, artist studios, an auditorium, a large meeting space, and job training facilities. Tenants include community organizations such as CHARM: Voices of Baltimore Youth, which enables middle and high school students to hone their writing skills, provides a variety of workshops, and offers paid editorial positions.
Community input was integral at the start of the project, with feedback considered from organizations such as the Bolton Hill Community Association, Upton Planning Committee, and Madison Park Improvement Association.
Historian Philip J. Merrill, a Loyola University graduate who grew up in Baltimore City and owns an African American heritage consulting firm named after his great-grandmother, designed the inaugural art exhibit for Unity Hall. "Division and Unity in Central West Baltimore," chronicles the history of racial divisions and housing segregation, and redlining on nearby streets. This exhibit will rotate out with different artists featured, but its story remains a central theme behind Unity Hall and its commitment to building a healthy community for all.
Who:
The Baltimore Unity Hall project was first established as a partnership between Memorial Apartments Corporation (MAC) and Somerset Development Company, LLC to redevelop the building into an asset for the community. Ziger|Snead was the architect behind the vision, while Southway Builders served as the General Contractor. Baltimore Unity Hall, Inc. a 501c3 private operating foundation was established in 2020 to support the on-going mission of uniting the neighborhood through the arts, education and training and to operate the new building. Petula Caesar, an experienced non-profit professional, artist and writer, is serving as the center's first director.
Gallagher's Role:
Gallagher regularly represents Somerset in connection with its Baltimore development projects. Our team, led by real estate attorney Mark Keener, worked with the client Somerset Development Company led by Nancy Hooff and Jim Campbell, co-principals, as well as their partner Memorial Apartments Corporation (MAC) in assisting with the acquisition of the vacant building and the financing of the upgrades to the property.
"Unity Hall is a great development project for Baltimore," Mark said. "Somerset has taken on and will continue to embrace projects in parts of the city that may not be attractive to other developers, but which greatly benefit communities. Not only have they developed the project, they have also invested a great deal of funding themselves. They have been an admirable client to work with, and we look forward to continuing to help them build their profile."
Attorney Spotlight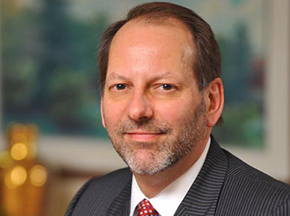 Mark P. Keener
Partner
Mark Keener represents developers, owners, investors, and lenders in residential, commercial, industrial, and mixed-use real estate development projects, from land acquisition through development, construction, leasing/sale, and disposition.
See All Attorneys