3.13.2020
Permanent Injunction (Available HERE)
March 2021 Memorandum Opinion  (Available HERE)
Preliminary Injunction and Order (Available  HERE )
February 2020 Memorandum Opinion (Available HERE) 
Gallagher attorneys have served as litigation counsel to firm client Brightview Group, LP in a case brought to protect Brightview's trade secrets, confidential information, and proprietary business opportunities.  In summer 2019, two former Brightview executives left to form a start-up competitor.  Certain statements made by these former executives at the time of their departures led Brightview to conduct a forensic examination of their electronic devices.  The forensic analysis, supervised by Gallagher lawyers, revealed electronic traces of what appeared to Brightview to be efforts by the former executives to misappropriate critical Brightview information and use it in competition against Brightview.  When efforts to resolve the dispute informally were unsuccessful, Brightview sued the former executives in the United States District Court for the District of Maryland.
Brightview and the former executives engaged in four months of expedited discovery, leading to a contested preliminary injunction hearing.  The former executives and their associates, represented at various points by as many as four law firms, mounted an aggressive defense.  In January 2020, Judge Stephanie A. Gallagher presided over a contested, live-witness preliminary injunction hearing.  On February 21, 2020, the federal court issued a preliminary injunction & order and a memorandum opinion, granting the relief Brightview sought: an injunction to protect Brightview's trade secrets and confidential information.
The case represents a classic Gallagher team effort, including litigation and transactions attorneys working collaboratively to help the firm client achieve its goals.  The Gallagher litigation team has been led by Mark Saudek and Joe Dugan.  Other lawyers on the Gallagher litigation team for Brightview include Ward Coe, Paul Caiola, Ella Aiken, and Collin Wojciechowski.  This case reflects the firm's longstanding dedication to our clients and our ability to help them through any matter, no matter how unexpected or complex.
Associated attorneys: Mark Saudek, Joe Dugan, Paul Caiola, Ella Aiken, Ward Coe, and Collin Wojciechowski.
Attorney Spotlight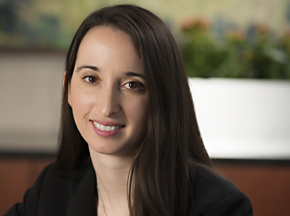 Ella Aiken
Partner
Ella Aiken practices in Gallagher's Litigation Group in a wide variety of matters, including commercial litigation, business disputes, property management, health care regulatory matters, intellectual property infringement and enforcement actions, and the defense of medical malpractice claims.
See All Attorneys