6.11.2020
Statement on Gallagher's Commitment to Racial Justice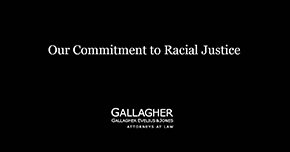 "Do not run from challenges because that is more comfortable and convenient. We all have a responsibility to create a just society." Bryan Stevenson
We are deeply saddened and outraged by the recent brutal killings of George Floyd, Ahmaud Arbery, and Breonna Taylor, and the racism and injustice at the root of these killings and so many others. At this time of national soul-searching and protest, Gallagher Evelius & Jones will not look away or run from challenge. We commit to fight racism and the terrible wounds it inflicts. Black lives do matter, and we stand with Black Americans demanding racial justice in our nation.
We know Black Americans have been long disadvantaged by racist systems in our nation, such as segregated housing, discriminatory lending, and health care disparities, to name just a few. Aside from the obvious racist systems, statements and actions we can all see and denounce, racism affects the lives of Black Americans every day in so many other ways, from the unfair playing fields resulting from a history of racism to pervasive subtle slights. We must combat racism, along with biases and prejudices, ingrained during lifetimes of socialization, and passed on through long-standing social structures, generation after generation, over hundreds of years. Counteracting this momentum requires honest reflection, hard work, and vigilance.
As members of the legal profession, we bear a heightened responsibility to work for equal justice for all. Throughout the firm's 60-year history, Gallagher has worked with our community and our clients to advance inclusive and equitable housing, neighborhood development, access to justice, educational equality, police and criminal justice reform, and other just causes. Currently, among other projects, a Gallagher lawyer chairs the Maryland Access to Justice Commission and we represent the Maryland Commission to Restore Trust in Policing. In the coming months and years, we will find even more ways to fight against the injustices caused by racism.
While this moment calls us to civic action, it also prompts us to look inward. At Gallagher, we will engage in dialogue and anti-racist education in our own firm, and we will advance our diversity, inclusion, and equity initiatives. More than ever, we will stand and work in solidarity with Black Americans, finding ways to create a better future and ensure that this moment is a catalyst for real and lasting change. We will be courageous and relentless in our efforts.
Attorney Spotlight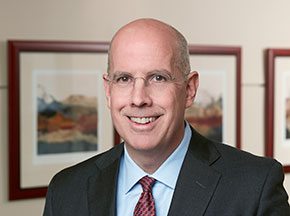 Thomas C. Dame
Managing Partner
Tom Dame practices in the firm's health law and litigation groups. He has a diverse civil litigation practice, with emphasis on disputes in health care matters and business litigation.
See All Attorneys