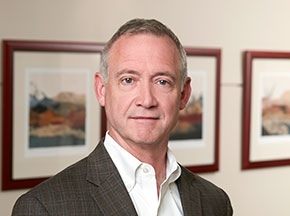 p: 410.347.1338
Peter has been a member of Gallagher Evelius & Jones LLP since 1989. He joined the firm following several years of public service, first as a white collar criminal prosecutor at the Attorney General's Office and then as trial counsel for the U.S. House of Representatives in an impeachment of a federal judge.
Peter concentrates his practice in trial and appellate litigation in state and federal courts. He has handled many complex jury trials and appeals during the course of his career. Peter regularly represents the firm's hospital, college, banking, and governmental clients in a wide range of cases including health care, estates and trusts, education, constitutional and civil rights, employment, environmental and professional malpractice matters. He has also conducted special investigations for corporations, nonprofit institutions, and governmental clients.
Peter has taught civil litigation as an adjunct professor at the University of Maryland Law School since 1990.  Peter was selected for inclusion in Best Lawyers in America 2021 in the areas of Commercial Litigation, Litigation–Banking & Finance, Litigation–Labor & Employment, and Litigation–Trusts and Estates, and was selected as their 2013 Baltimore Litigation Trusts & Estates "Lawyer of the Year."  He has been recognized in Maryland Super Lawyers since 2008.
Civic and Charitable Service
Baltimore Fire and Police Retirement System, Chairman. Board of Trustees. City public pension fund for approximately 4000 active and 6000 retired Baltimore city firefighters and police officers and their beneficiaries.The System has $2.5 billion in assets, invested in a highly-diversified portfolio. The Board is responsible for managing and investing the investments, dealing with investment managers, overseeing the administration of benefits, and addressing a variety of other issues involving the police and fire employees and their retirement benefits.
Friends of Gallagher Services (1998 – 2007)
Equal Justice Council
Maryland Legal Aid
Print PDF
Background
Area(s) of Practice
Court Admissions
Maryland State Courts
United States Supreme Court
United States Court of Appeals for the Fourth Circuit
United States Court of Appeals for the Sixth Circuit
United States District Court for the District of Maryland
United States District Court for the Eastern District of Michigan
United States Tax Court
Bar Admissions
Education
University of Virginia, JD, 1980
University of Virginia, BA, 1976, Phi Beta Kappa
Bar and Professional Memberships
American College of Trial Lawyers, Fellow
American Bar Association, Litigation Section
American Health Lawyers Association
Bar Association of Baltimore City
Federal Bar Association
Maryland State Bar Association, Litigation Section