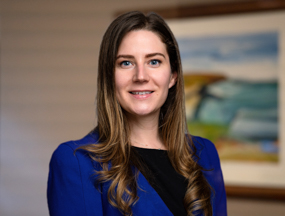 p: 4103471647
A Human Resources professional with 13 years of industry experience, Karla brings a level-headed and empathetic approach to problem solving in her role as Gallagher's Director of Human Resources. She has a passion for connecting with people and understanding their unique personality, motivators, and style.
Karla began her career at a large Baltimore-area law firm, where she served in an HR and then recruiting capacity. She continued in her career working at a large, global staffing agency and another local law firm, also as the Director of Human Resources. Karla has served as a business partner to managers on recruiting and onboarding, compliance, compensation analysis, and employee coaching and development.
Karla graduated magna cum laude from the University of Maryland, Baltimore County, in 2010 with a bachelor of arts degree in English.
 Beyond Gallagher
Outside of work, Karla is physically and socially active, and enjoys running, dinner with friends, and live music at historic and cultural venues in the Baltimore area. She also loves cooking and experimenting with new and unique recipes.
Print PDF
Background
Education
University of Maryland Baltimore County, BA, 2010, magna cum laude