11.16.2023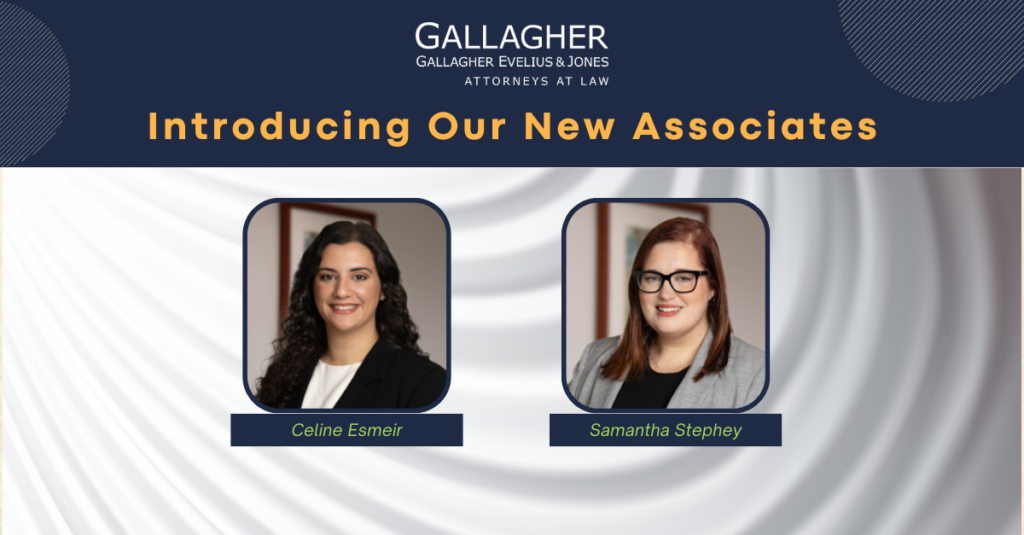 Gallagher Evelius & Jones is pleased to announce that two associates, Samantha "Sam" Stephey and Celine Esmeir, have joined Gallagher's Transactions practice.
Sam earned her JD from the University of Baltimore School of Law, graduating summa cum laude in 2023. While in law school, she served as the Comments Editor for the University of Baltimore Law Review and was a judicial intern for Magistrate Hope Tipton, Circuit Court of Baltimore City (2022) and the Honorable Joseph M. Getty, Maryland Court of Appeals (2021). Sam earned a Master of Social Work from the University of Maryland, Baltimore, in 2019 as well as a Bachelor of Science degree and a Bachelor of Music degree from the University of Maryland, College Park, in 2016.
Prior to joining Gallagher, Sam worked as a full-time social worker, gaining valuable case management skills and experience working with sensitive matters, which she incorporates in her client work.
Celine earned her JD from the University of Maryland Francis King Carey School of Law, graduating cum laude in 2023. In law school, Celine served as Managing Editor for the Maryland Law Review and worked with startup companies and local businesses as a student attorney in the Intellectual Property and Entrepreneurship Clinic. She was also a Law Fellow for AARP in Washington, D.C. She received her Bachelor of Business Administration degree from the University of Georgia in 2020. Through her passion for business and finance, Celine brings an analytical approach to solving problems for Gallagher's developer, syndicator, and investor clients.
"We came to know and respect both Celine and Sam while they served as summer associates at the firm, and we are delighted to welcome them aboard as they begin their careers as lawyers," said Tom Dame, managing partner. "They are successfully engaging with clients and colleagues, and we look forward to supporting them as they build their careers here."
About Gallagher
For more than six decades, Gallagher has served businesses and nonprofits. Among other clients, Gallagher represents many prominent universities, hospitals and health care providers, financial institutions, religious organizations, real estate development companies, and other businesses throughout the mid-Atlantic region. Many of these relationships date back more than 50 years – a sign of the firm's strong commitment and level of service. The firm continues to expand into new practice areas such as renewable energy, in order to provide high quality service to clients.
Gallagher and its more than 100 staff are committed to supporting the community through volunteer and pro bono efforts, and to focusing on diversity, equity, and inclusion across all aspects of the organization.
Related Articles: Gallagher Welcomes Three New Associates