2.7.2023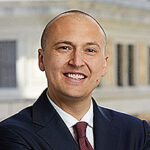 Gallagher Evelius & Jones is pleased to announce Jared Dvornicky as a partner in the law firm's litigation practice group. An energetic and passionate advocate, Jared maintains a diverse civil litigation and tax controversy practice, supporting clients with contract and tort disputes, creditors' rights and bankruptcy matters, and tax and tax assessment issues and appeals. He thrives on building client connections and learning the critical aspects of their business operations to provide tailor-made legal solutions.
In addition to helping clients resolve some of their most challenging disputes, Jared devotes significant time to pro bono work. Recently, he won a post-conviction case, which led to the release of a client serving life imprisonment.
"Jared brings an energy to his work that is appreciated and respected by colleagues and clients alike," said Tom Dame, managing partner. "He has become an integral part of our litigation practice, effectively representing clients with tax and other financial matters, and he develops strong and lasting relationships with our clients. We are thrilled to welcome him as a partner."
Jared graduated summa cum laude and first in his class with a Bachelor of Science degree from the University of Richmond in 2006. He received his MBA from Loyola University Maryland in 2010.
Jared earned his JD from the University of Maryland Francis King Carey Law School while also working full-time as an acquisition professional in the defense industry. After law school, he completed two judicial clerkships, serving first as a law clerk to the Honorable Sally D. Adkins of the Maryland Court of Appeals and then as a law clerk to the Honorable George L. Russell, III of the U.S. District Court for the District of Maryland.
Jared's civic and charitable service includes serving as a board member for The Harbour School Foundation, which provides individualized learning and a supportive environment for students with learning challenges. He is also the alumni engagement committee chair for the University of Maryland Law School's Alumni Board.
"It is an honor to join the Gallagher partnership," said Jared. "I am proud to work at a law firm that values uplifting colleagues, clients, and community. I continue to be inspired by my talented colleagues across the firm and am deeply committed to Gallagher's collaborative, service-based culture. I am excited to carry forward Gallagher's rich history of service to our clients and our community."