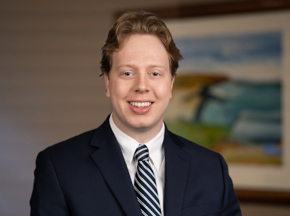 p: 410.951.1431
As a paralegal in Gallagher's Renewable Energy practice group, Matt assists attorneys as they work with lenders, investors, developers, owners, customers, and renewable energy project operators on finance, development, tax credit, and related matters.
Matt is an effective researcher, which will enable him to successfully contribute to client matters. While at the University of Virginia, his team placed first in the World Bank Group Development Competition. The team focused on improvements to the Lebanese national economy, researching empirical data to support their case. Most recently, he conducted real estate market research in his role as a commercial real estate analyst.
Beyond Gallagher
Matt has a zest for history and particularly enjoys reading about World War II. A music fan, Matt plays piano and enjoys making sounds come alive by experimenting with synthesizers. He is also an avid fan of playing and watching baseball.
Print PDF